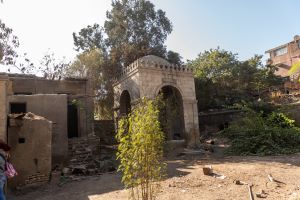 Special Edition Public Lecture: "Giving Life to the Stones: A Philanthropic Partnership to Celebrate a Living Culture in a City of the Dead"
Registration is required
Presented by:

Rabbi Andrew Baker, Director of International Jewish Affairs, American Jewish Committee



Maryellen Himell-Ovadia, Volunteer Campaign Director, Karaite Jews of America



Magda Horoun, Head of the Jewish Community in Cairo (JCC)



Samy Ibrahim, Executive Director of The Drop of Milk Association



David Ovadia, President, Karaite Jews of America



Liska Radachi, US Director, ARCE



Dr. Nicholas Warner, Director of Projects, ARCE
Click HERE for more information on Basatin Cemetery. 
Lecture Information: 
The Jewish cemetery in Basatin is the third oldest Jewish cemetery in the world, having been officially established by decree of the Mamluk Sultan al-Ashraf Qaitbay in 1482. At the time, the land designated for the cemetery consisted of 147 acres and was located beyond the boundaries of the Tulunid capital of Egypt, with separate grounds for Rabbanite and Karaite Jews.
ARCE completed preliminary conservation work from 2019-2020 thanks to a generous grant from the U.S. Ambassadors Fund for Cultural Preservation (AFCP), in partnership with the Drop of Milk Association and the US Embassy in Cairo. Upon completion of the initial work, ARCE hosted a webinar in September 2020 to showcase the progress. 
Tuning into the lecture, it immediately became clear to David Ovadia, President of the Karaite Jews of America (KJA), and his wife Maryellen Himell-Ovadia, that a partnership between the KJA, Drop of Milk, and ARCE would serve as an incredible opportunity to infuse ARCE's project with a living memorial to the Karaite community's lost heritage in Egypt. 
Join us to learn more about the of the history of Karaite Jews in Egypt, and the genesis of the Garden of Remembrance that honors both the millennium-old Karaite heritage in Egypt and the living Karaite community of today.