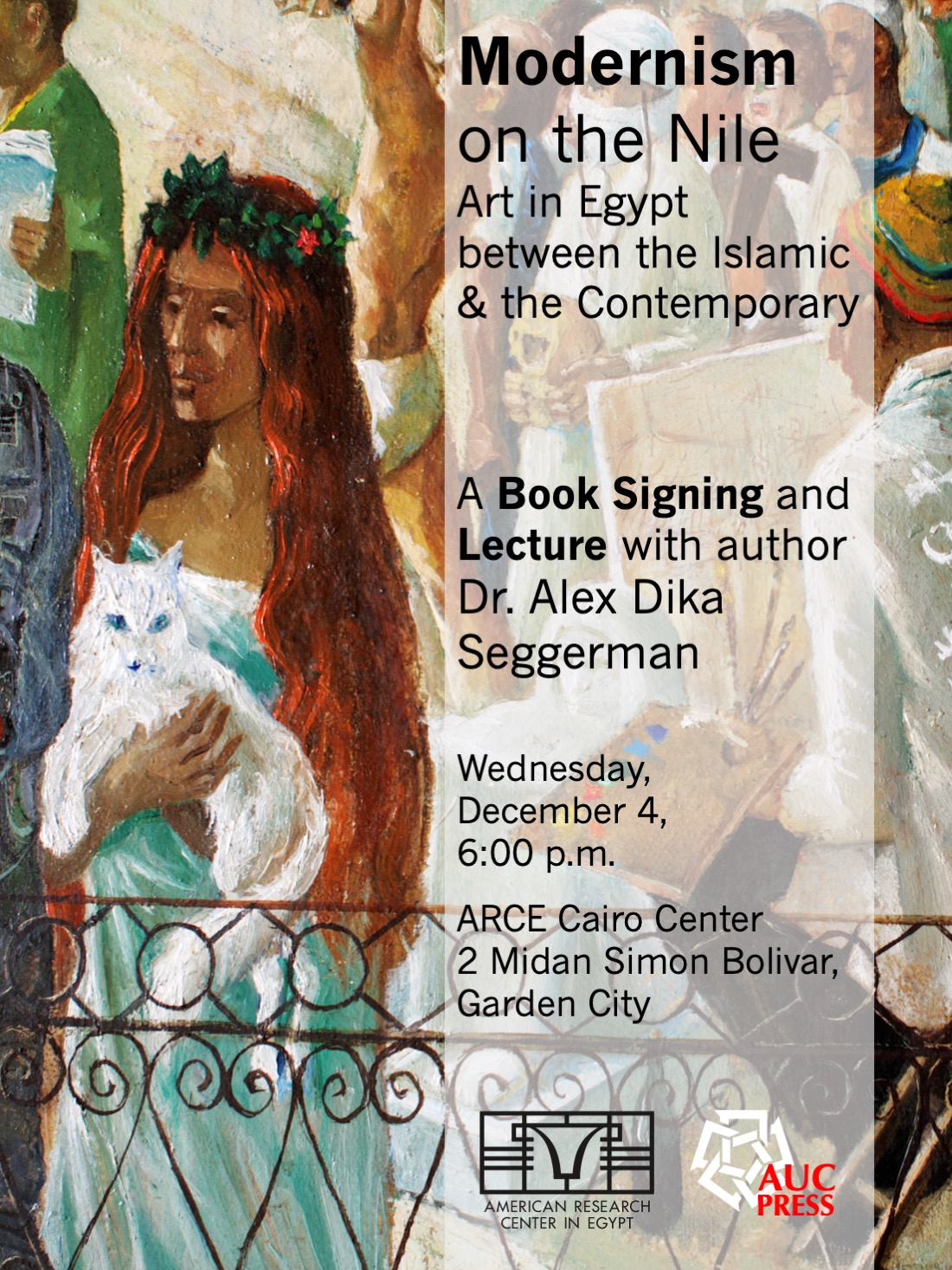 Modernism on the Nile: How Egyptian Art Can Change Global Art History
Lecture and Book Signing with Dr. Alex Dika Seggerman, Rutgers University
6:00 p.m.

Cairo Center

ARCE Cairo Center

2 Midan Simón Bolívar, Garden City
Egypt is recognized around the world for its wondrous ancient monuments. Moreover, its rich history of Muslim architecture and material culture is central to Islamic art history. The question remains: in light of its major art historical heritage, what is the role of Egypt's nineteenth- and twentieth-century artistic modernity for global art history?
In this talk, Alex Dika Seggerman (Assistant Professor, Rutgers University-Newark), discusses her new book, Modernism on the Nile: Art in Egypt between the Islamic and the Contemporary. Based on extensive fieldwork in Egypt supported by an ARCE pre-doctoral fellowship, she analyzes the modernist art movement that arose in Cairo and Alexandria from the late nineteenth century through the 1960s. Focusing on famous Egyptian modernist artists like sculptor Mahmoud Mukhtar and painters Mahmoud Said, Abdel Hadi el-Gazzar, and Inji Efflatoun, she argues that modernism in Egypt is a prominent example of global modernism.
Challenging typical views of modernism in art history as solely Euro-American, and expanding the conventional periodization of Islamic art history, Seggerman theorizes a "constellational modernism" for the emerging field of global modernism. Rather than seeing modernism in a generalized, hyperconnected network, she finds that art and artists circulated in distinct constellations that encompassed finite local and transnational relations. As such, Egyptian modernism, like Egyptian pharaonic and Islamic art, has the potential to fundamentally shape global art history.
About Dr. Seggerman
Alex Dika Seggerman is Assistant Professor of Islamic Art History at Rutgers University-Newark in New Jersey, USA. Dr. Seggerman was an ECA pre-doctoral fellow at the American Research Center in Egypt during 2011-2012 and received her Ph.D. from Yale University in the History of Art in 2014. Prior to joining the Rutgers-Newark faculty in 2018, she held postdoctoral fellowships at Smith College, Hampshire College, and Yale University. Dr. Seggerman's scholarship investigates the intersection of Islam and modernism in art history. Her first book, Modernism on the Nile: Art in Egypt between the Islamic and the Contemporary, traces the arc of Egyptian modernism in art, arguing that artists confronted and visualized the transnational context of their circulation through a "constellational modernism."