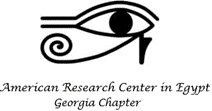 Georgia Chapter: Fresh Look at an Historic American Collection of Ancient Egyptian Art
Registration is Required
Presented by: Dr. Ashley Arico; Egyptologist and Associate Curator of Ancient Egyptian Art at the Art Institute of Chicago

The Carlos Museum and ARCE Georgia are jointly sponsoring this program.
Lecture Information
With Amelia Edwards' gift of a faience ushabti in 1890, the Art Institute of Chicago became the first museum in the Windy City to acquire an Egyptian artifact. Today the Art Institute's collection includes works that span the entirety of ancient Egyptian history—from about 4000 BCE to the first centuries CE. The museum's holdings illustrate ancient Egyptians' mastery of many media and forms, including stone sculpture, copper alloy statuettes, faience figurines, gold amulets, wooden coffins, and painted cartonnage funerary masks. Recently, the museum opened its first new permanent gallery of ancient Egyptian art in nearly 30 years, allowing for a reexamination of the collection. Through a close look at objects now on view, this richly illustrated talk will introduce key works, exploring their histories and revealing new discoveries.
About Dr. Ashley Arico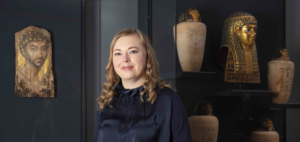 Dr. Arico received her PhD in Near Eastern Studies with a focus in Ancient Egyptian Art and Archaeology from the Johns Hopkins University, where her research examined Egyptian statues as evidence for interactions between Egypt and the Levant in ancient times. She is currently the Associate Curator of Ancient Egyptian Art at the Art Institute of Chicago. Ashley participated in excavations at the temple of the lioness-headed goddess Mut in Luxor, Egypt for several years, and she has previously held positions at the Johns Hopkins Archaeological Museum, the Walters Art Museum, and the Museum of Fine Arts, Boston. Her interests include tracing how Egyptian artifacts have moved and been interpreted over time from antiquity to today, and particularly in how tourism to Egypt in the late 19th century influenced the formation of Egyptian museum collections throughout the world, including in Chicago.  Ashley currently serves as president of the Chicago chapter of ARCE and president of the ARCE Chapters Council.