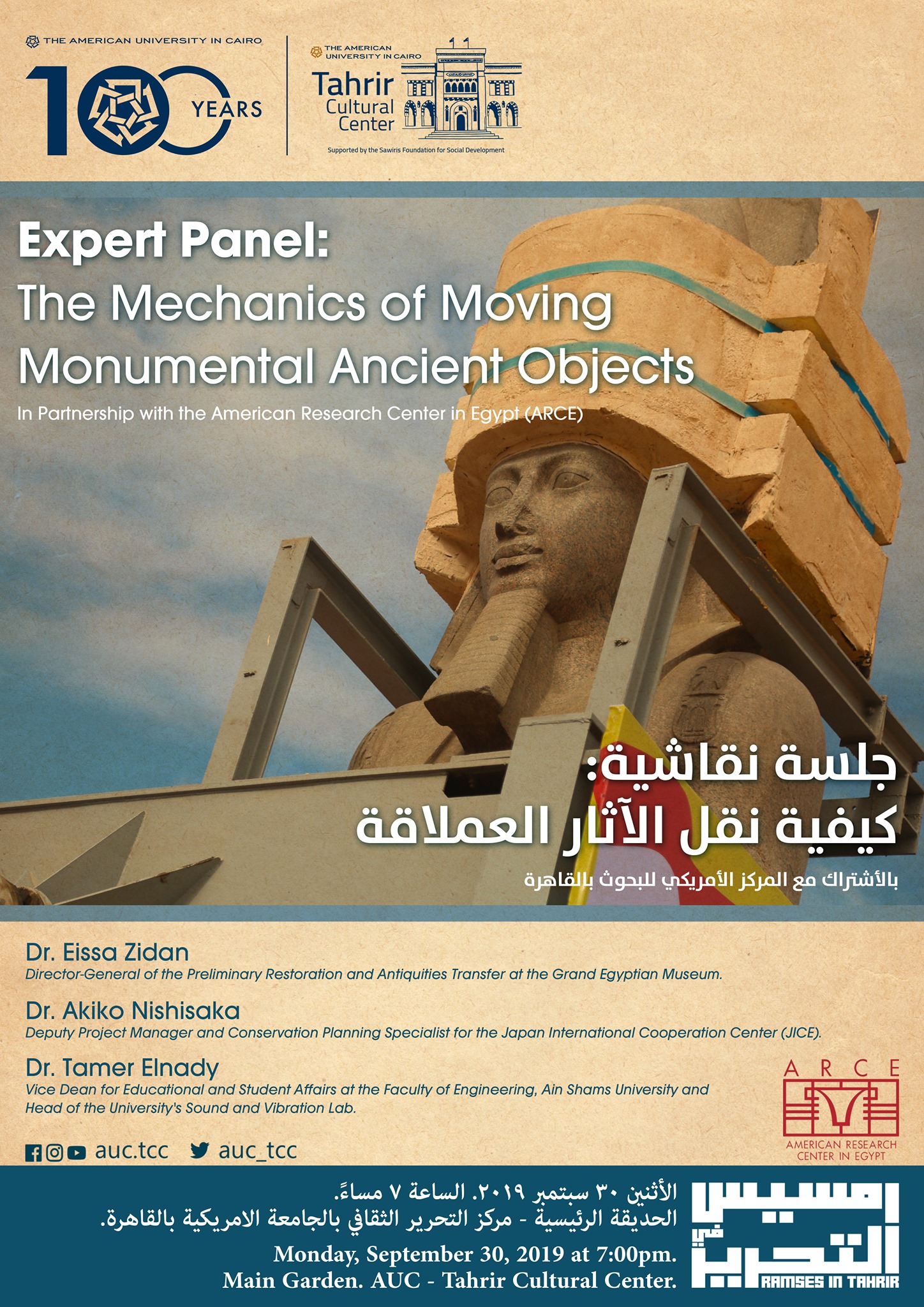 Expert Panel: The Mechanics of Moving Monumental Ancient Objects
Expert Panel with Dr. Eissa Zidan, Dr. Akiko Nishisaka, and Dr. Tamer Elnady
7:00 p.m.

Cairo Center

AUC Tahrir Cultural Center (TCC)

Main Garden, TCC
Tahrir Square
A panel of experts will discuss the exciting complexities of transporting priceless, and often times gigantic, ancient monumental objects through a crowded metropolis like Cairo. The panel will also answer the question posed by the film, revealing the current location of the statue after it was moved from Ramses Square.
The Expert Panel is part of a series of events organized by AUC's Tahrir Cultural Center under the title "Ramses in Tahrir," which also includes a musical performance of songs from and inspired by the film Where Did Ramses Go?, and an exhibition of related archive material
About the speakers:
Dr. Eissa Zidan
Director-General of the Preliminary Restoration and Antiquities Transfer at the Grand Egyptian Museum
He is responsible for overseeing the secure transfer of archaeological objects to the Grand Egyptian Museum.
Dr. Akiko Nishisaka
Deputy Project Manager and Conservation Planning Specialist for the Japan International Cooperation Center (JICE)
She works with conserving artifacts from the Tutankhamun collection, which will be exhibited in the Grand Egyptian Museum upon its opening.
Dr. Tamer Elnady
Vice Dean for Educational and Student Affairs at the Faculty of Engineering, Ain Shams University and the Head of the University's Sound and Vibration Lab.
He is also the senior acoustic consultant at Elnady Engineering and was responsible for monitoring the vibration levels that the statue of Ramses II was exposed to during its historic move from Cairo to Giza.