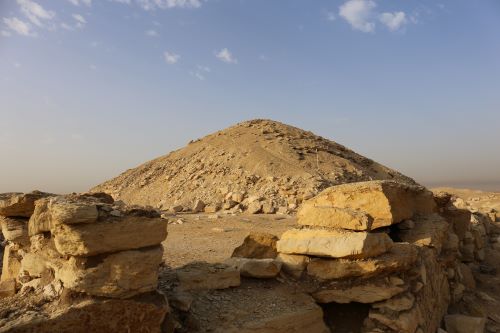 Cairo Lecture: "The Royal Cemetery of Djedkare in South Saqqara: transitional era"
Presented by: Dr. Mohamed Megahed
6:00 PM Cairo Time

In Person

ARCE Cairo Center
2 Midan Simon Bolivar
Garden City Cairo Governorate 11461
Egypt
Lecture Information
In 2019, the Djedkare Project (DJP) began the excavation in the royal cemetery around the pyramid complex of the king in south Saqqara. The first tomb was discovered to the northeast of the pyramid of Queen Setibhor, which belongs to a dignitary named Khuwy. One of the most significant features of this tomb is its decorated substructure representing one of the earliest decorated burial chambers in the Old Kingdom. During the last season of DJP in the royal cemetery of Djedkare, another tomb was found. This tomb was constructed for the king's oldest son, Isesiankh. The tomb was built to the south of Khuwy's tomb. Though largely damaged, its architecture reflects the importance of its owner. Like the tomb Khuwy, the substructure of Isesiankh's tomb is reached through a descending corridor leading to a vestibule and a large burial chamber with a huge white limestone sarcophagus located in a niche on the west side of the chamber. A large storeroom, with walls and ceiling blocks well preserved, is situated to the south of the burial chamber. The two newly discovered tombs are of great significance because they are built very close to the king's pyramid. They contribute significant and important information to our knowledge of Djedkare's reign and the transitional period between the fifth and sixth dynasties. 
Speaker Bio
Dr. Mohamed Megahed graduated in Egyptian Archaeology and Art History at universities in Minya and Cairo and acquired his PhD in Egyptology at the Charles University, Prague in 2016. He specializes above all on archaeology, architecture, and decoration of the Old Kingdom pyramid complexes. He directs the project of the exploration, documentation, and conservation of the pyramid complex of King Djedkare-Isesi at south Saqqara, and he is the Deputy Director of the Czech Institute of Egyptology, Prague mission in Abusir.