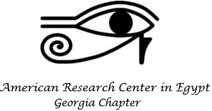 ARCE Georgia: Tutankhamun's Trumpet
Registration is required
Presented by: Professor Toby Wilkinson; Fellow of Clare College, University of Cambridge
Lecture Information
Toby Wilkinson's talk will focus on material contained in his new book, Tutankhamun's Trumpet: Ancient Egypt in 100 Objects from the Boy-King's Tomb, which was published in November 2022 to coincide with the centenary of tomb's discovery. Tutankhamun's tomb contained thousands of unique objects, from the mundane to the extravagant, from the precious to the everyday. Wilkinson's talk will allow these artifacts to speak again- not only for themselves, but as witnesses of the civilization that created them. 
Speaker Bio
Toby Wilkinson completed his PhD degree in Egyptology at Christ's College, University of Cambridge. He has lectured around the world and has excavated at the Egyptian sites of Buto and Memphis. He is a member of the editorial board of the Journal of Egyptian History and has appeared on radio and television. He is a prize-winning author of thirteen books, including A World Beneath the Sands and The Rise and Fall of Ancient Egypt (a New York Times bestseller which was awarded the Hessell-Tiltman Prize as the best work of historical non-fiction in 2011).
This program is jointly sponsored by the Carlos Museum and ARCE Georgia 
Registration is required but it is free.