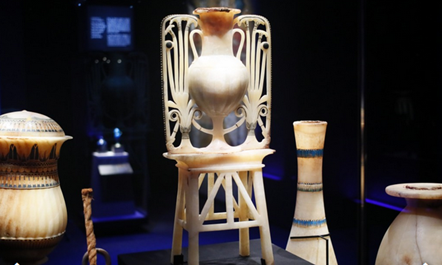 ARCE Georgia: A New Look at the Treasures of Tutankhamun's Tomb
Registration is required
Presented by Dr. Robert Bianchi; Chief Curator, The Ancient Egyptian Museum Shibuya [Tokyo]

If you are not a member of ARCE GA, register by contacting arcegainfo@gmail.com and a link will be sent to you. 
Lecture Information:
When Tutankhamun's tomb was discovered in 1922, the objects in it created a sensation. For decades the objects have dazzled the world and been the center piece of the Cairo Museum. Even so, the circumstances of Tutankhamun's death and burial have always raised questions. The construction of new museums in Egypt, and the relocation of these objects, has created a new opportunity for study of many of these objects. This talk will focus on the reevaluation of objects from Tutankhamun's tomb. 
About Robert Bianchi:
Dr. Robert Bianchi received his PhD from New York University's Institute of Fine Arts and, thereafter, served as the curator in the Department of Egyptian, Classical, and Ancient Middle Eastern Art at the Brooklyn Museum of Art. During his tenure at the Brooklyn Museum of Art, Dr. Bianchi taught as adjunct professor at the Columbia University Department of Art History and Archaeology, as well as at New York University in the Department of Museum Studies. Dr. Bianchi has written and coauthored ninety-six books, arranged and coordinated numerous exhibitions on four continents, and served on the staff of six museums. Over his career, Dr. Bianchi has received numerous fellowships and appointments for further study at such institutions as the Louvre in Paris and the MMA in New York. Currently Dr. Bianchi serves as the chief curator of the Ancient Egyptian Museum Shibuya (Tokyo). You may recognize Dr. Bob, as he is known to many, for his many recent appearances on TV as the Expert Commentator on Egyptology (e.g., 2021 Discovery Channel Legends of Pharaohs).