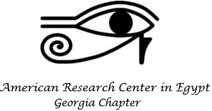 ARCE Georgia: Excavating the Ancient Egyptian Fortress at Uronarti
Registration is required
Presented by: Dr. Laurel Bestock; Associate Professor of Archaeology and Egyptology at Brown University



Jointly sponsored by the Carlos Museum
This program is jointly sponsored by the Carlos Museum and ARCE Georgia. Registration is required but it is free. Contact arcegainfo@gmail.com and the registration link will be send to you as soon as it is available. 
Lecture Information: 
The relations between ancient Egypt and its southern neighbors were complex. During the Middle Kingdom, several fortresses including the monumental fortress at Uronarti were built along the Nile in Egypt's  southern frontier region. Early excavations in the 1920s were not thorough, and much was missed. No further substantial work was done in the 20th century, and in the 1960s the entire region was abandoned in the wake of the filling of Lake Nasser. That any sites remained to be explored came as a surprise, and in 2012, the Uronarti Regional Archaeology Project (URAP) was formed by Dr. Bestock and her friend and colleague Dr. Christian Knoblauch to investigate Uronarti. The project, which is ongoing, focuses on colonial relations and the lived experience of ancient people on Uronarti and in the surrounding region. Dr. Bestock will discuss the discoveries of the project, including an extramural settlement contemporary with the fortress, and extensive remodeling within the fortress. 
Speaker Bio:
Dr. Bestock teaches at Brown University where she is Director of Graduate Studies, Joukowsky Institute of Archaeology. She holds a BA from Brown and MA and PhD from the Institute of Fine Arts, NYU. Her research focuses on the material culture of the Nile Valley and on the methodology of archaeological recording. She is particularly interested in kingship, monumentality, the contexts and audiences for art and architecture, and cultural interactions. A recent book by Bestock, Violence and Power in Ancient Egypt: Images and Ideology before the New Kingdom, examines the making of pictures of violence as a tactic of power in the early Egyptian state.