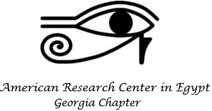 ARCE Georgia: Amarna Sunset
Registration is required
Presented by: Professor Aidan Dodson; University of Bristol
Lecture Information
The Amarna Sunset refers to a brief period of time preceding Tutankhamun. In his lecture, Professor Dodson will explore what we know, and can infer, about the period of less than a decade that spanned the triumphal 'durbar' of Akhenaten's Year 12 to point at which Tutankhamun's Restoration Stela marked the eclipse of the heretic king's vision. In doing so, Professor Dodson will consider the evidence for the identities of Smenkhkare and Nefereneferuaten, who ruled alongside Akhenaten during his last year, as well as the parentage of Tutankhamun. 
Speaker Bio
Professor Dodson was born in London. He completed a BA at the University of Liverpool and an MPhil and PhD at Christ's College, Cambridge. He began teaching at the University of Bristol in 1996 and was Simpson Professor of Egyptology at the American University in Cairo for the spring of 2013. His primary research interests concern ancient Egypt, with a particular focus on dynastic history and chronology, tomb architecture, sarcophagus, and coffin design, canopic equipment, and the history of Egyptology; he is also an historian of late 19th and the early 20th century navies and has written on the royal tombs of Great Britain. Dodson was elected a Fellow of the Society of Antiquaries of London in 2003, and appears regularly on television as guest commentator, including on Expedition Unknown and other programs. He is the author of over twenty-five books, and some 400 articles and reviews. His recent books include a series of biographical works on ancient Egyptian rulers: 
Sethy I, King of Egypt: his Life and Afterlife (2018)
Rameses III, King of Egypt: his Life and Afterlife (2019)
Nefertiti, Queen and Pharaoh of Egypt: her Life and Afterlife (2020)
The First Pharaohs: their Lives and Afterlives (2021)
Tutankhamun, King of Egypt: his Life and Afterlife (2022)
Companion volumes on the Nubian pharaohs, Thutmose III & Hatshepsut and Libyan pharaohs are in preparation. 
This program is jointly sponsored by the Carlos Museum and ARCE Georgia