Forum: Horses and donkeys in Egypt and the Ancient World
Join leading anthropologists, Egyptologists, and archaeologists to discuss the relationships between horses, donkeys, and people in Egypt and North Africa, both now and in the deep past. This forum will take place on Thursday, May 25th at 10 am Eastern European Time in ARCE Cairo Center, 2 Midan Simon Bolivar, Garden City.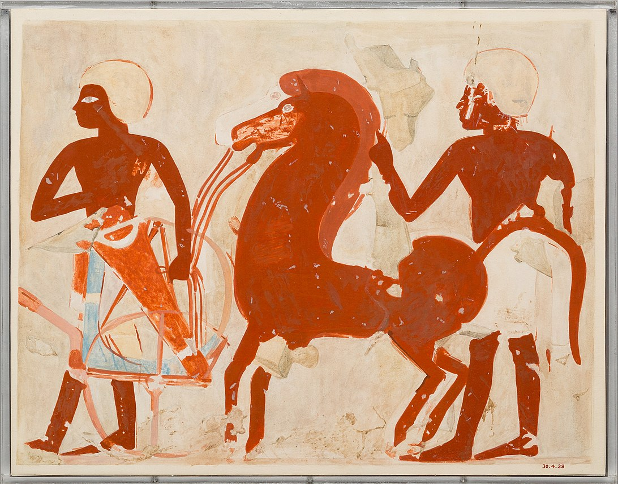 Offerings of a Chariot and Horse, Tomb of Userhat, in the collections of the Metropolitan Museum of Art. Wikimedia Commons.
Panelists will present their own findings, along with discussion of new ideas, approaches, and techniques in the anthropology and archaeology of human-horse relationships.
10:00-10:20, Horses in ancient Egypt- an overview – Salima Ikram, American University of Cairo (by Zoom)
10:20- 10:40, Ptolemaic and Late Antique Equids in Lower Egypt – Louise Bertini, American Research Center in Egypt
10:40-11:00, The Equid remains of Gabel El Haridi Excavation- Mohamed Hussein, Egyptian Ministry of Tourism and Antiquities
11:00-11:20, Advances in the archaeological study of horse and donkey domestication: implications for Egypt and the ancient world – William Taylor, University of Colorado
11:20- 11:40, Horses and their role in modern North Africa – Gwyneth Talley, American University of Cairo
11:40-12:00 The Tahawi Bedouins and their Atiq Arab Horses – Yasser Ghanim Tahawi, The International Arabian Horse Council
12:00-12:30 Panel discussion